Each child enjoys and experiences success.
At The Children's Workshop, children develop concepts in the cultural arts, language arts, mathematics, science and social studies by actively exploring, discovering, and creating through play.
Our professional staff strives to provide a nurturing and supportive environment in which each child enjoys challenges and experiences success. The Children's Workshop's curriculum is literature based and developed around themes of interest to young children. Classroom themes are inspired by what is happening in the world around us. Based on children's interests, new skills and activities are introduced in each learning center.
---

Early Developmental Milestones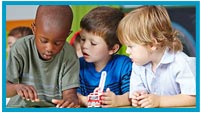 The preschool years are vitally important in providing many key developmental milestones, including:
a foundation for self-esteem.
social values of sharing, cooperation & friendship.
respect & understanding for others from different
backgrounds.
a basis for future academic achievement.

---

The Children's Workshop
A developmental preshool in Ormond Beach, Florida, for two, three, and four year old children with an established reputation for academic excellence…

Custom Bricks!
As part of our expansion TCW is offering customized bricks in the new walkway in front of the school!

Location
506 Lincoln Ave.,
Ormond Beach, FL 32174   Phone: (386) 672-6762